Blackberry wine
Multidimensional and energy wine fullfilling your soul!
Hand-gathered from the sunbathed and wood enclosed wine-growing hills of Voloder - Ivanić Grad , with the use of completely natural technology of wine production
Our vision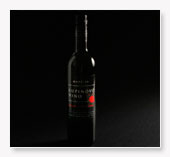 The thought leading us from the very beginning is to produce a first-rate product of unique quality and to show it to the whole new wine world.
WHO ARE WE?
Marcius, ltd is

a firm with
the largest blackberry plantation
in Croatia
and
with the biggest production
of blackberry wine
(20.000 l a year).
We own
5 hectares of land
with
blackberry fields,
preparing
an
extra 40 hectares
of newly planted blakberries.
Because of the exceptional quality of our blackberries we also sell them fresh.
In 2008. and 2009. we won a consumers' award for the most delicious blackberry.
Some of our bigger buyers include supermarket chains Billa, Kaufland and Metro.
The story
"Auntie Mary was having roast venison today because uncle Joe had caught an animal in the woods yesterday, so she called us to come for lunch. We had no idea what to bring them, so we asked our granddad. He said that we could bring some wine that goes with that. He asked grandma for a suggestion, but she did not know for sure, either, so I surfed the Internet and found out a lot. To begin with, the best wine that goes with roast venison and red meat is blackberry wine which is also very healthy, containing a lot of iron and vitamin C, and that it is actually a dessert fruit wine that can be also excellently combined with blue cheese and has 13,8 % alcohol. It wasn't at all clear to me how cheese can be blue or that alcohol can be healthy, but I thought that grandma should know.
Auntie Mary was delighted when she saw what we brought her. She said it was an excellent wine and that we should taste it before the meal. In the end, they drank the whole bottle before the lunch was over, although I had read that it was recommended to drink a decilitre a day. I also know that they had not even cooled it down, as it said, at 16 degrees, because they did not make it. She tucked into her wine, but I did not mind, only because the lunch was great. Anyhow, I think that she exaggerates with drinks, because I saw that she poured herself four times..."
Marko (12), Zagreb / Wine with a story / gourmet
OUR ADVANTAGES
Our sort of blackberries is uniqueand certified by the Pennsylvania State University as being the best in the world.
We use top technology of processing and highly operative expertise. We have been constantly educated in the fields of fruit growing and wine production.
Natural limitation of production in other areas.
PLAN FOR 2010. and 2011.
In 2010. we plan to produce 40 tons of blackberries
and
30.000 l of blackberry wine.
In the following 2011.,
we expect
80 - 100 tons of blackberries.